The Sperm Whale
(Physeter macrocephalus)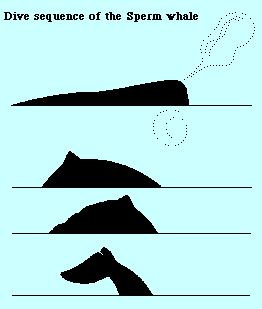 Length: male 15.8-18.5m (49-59ft) wt. 45-70 tonnes, female 10.9-12m wt. 15-20 tonnes. Lifespan 80 years.
The Sperm Whale is the largest of all the toothed whales, with an enormous head almost 35% of it's total body length. The large male Sperm Whale can remain in apnea, that is survive without breathing, for between 60-90 minutes.
The whales breathing sequence involves from 10-11 minutes on the surface with 60-70 breaths during that time. This indicates a respiratory rate much faster than that of the baleen whales. The spout of this whale emerges from its blowhole under considerable pressure and sometimes rises 15 metres (50 feet) into the air. The longer and deeper the dive, the higher the spout.
Rule of Thumb A Sperm whale 18 metres long (60 feet), weighing 60 tons and remaining in a dive for 60 minutes, will breath 60 times.
The whale has triangular flukes with smooth, straight edges, small notches and is dark underneath.