Herman Melville
Author of Moby Dick Was Frustrated By Public Reaction to His Masterpiece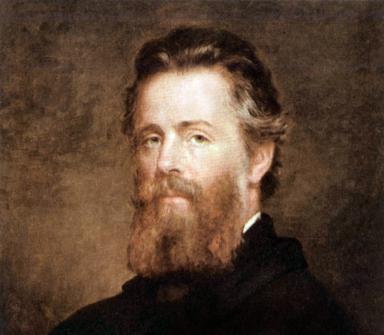 Painting of author Herman Melville. (Hulton Fine Art/Getty Images)
Herman Melville is remembered today as the author of Moby Dick, a novel considered one of the most significant works of American literature. Yet in his own time Melville was known mainly as the writer of adventure stories based on his life as a sailor in the South Seas.
Being misunderstood by the public may have caused Melville to grow tired of writing fiction. By middle age he began to concentrate on poetry.
Through political connections he obtained a government job working at the Customs House in New York City, and by the end of his life he was living in obscurity.
When he died in 1891 his fiction had mostly been forgotten. The New York Times noted his death in a very brief item which misspelled the title of his masterpiece, mentioning he had been the author of "Typee, Omoo, Mobie Dick, and other seafaring tales, written in earlier years."
Moby Dick was rediscovered in the 1920s and hailed as a masterpiece. The novel has since remained in print, and Melville's influence on literature is widely acknowledged.
Early Life of Herman Melville
Herman Melville was born August 1, 1819 in New York City. His father was a merchant who struggled financially. After his father died bankrupt, young Herman faced a life with few opportunities. His education came to an end in his early teens.
After working at a variety of jobs including store clerk and country schoolmaster, he became fascinated with the idea of being a sailor. In his late teens he worked as a cabin steward on a packet ship sailing from New York to Liverpool, England, and back. He had only spent three months at sea, but the taste of maritime life made him want to see more of the world.
Life at Sea
On January 3, 1841, 22-year-old Herman Melville sailed from New Bedford, Massachusetts, the center of the American whaling industry, aboard the whaling ship Acushnet. He had signed on to sail to the South Pacific, where the Acushnet would hunt sperm whales, a species prized for spermaceti, a mysterious oil found in the whale's massive head.
Later that year Melville and a friend he had met aboard ship deserted the Acushnet when it anchored at Nukuheva in the Marquesas Islands of the South Pacific. Wandering into the Typee Valley, Melville encountered natives he would later write about in the novel Typee.
Melville eventually sailed from Nukuheva aboard an Australian whaler, the Lucy Ann. By 1843 he had landed in Honolulu, Hawaii. Within a few months he enlisted as a seaman in the U.S. Navy, and sailed from Honolulu to Boston, where he landed in October 3, 1844.
Melville had spent nearly four years at sea, and it gave him the material for four books in addition to Moby Dick
Moby Dick
The first of his novels related to the sea, Typee, was published in 1846 and was well-received. Melville followed it in 1847 with Omoo, which was set in Tahiti, and in 1849 with Mardi, which was set aboard a whaling ship.
Mardi was somewhat experimental and explored metaphysical themes. It was not considered a success, and Melville returned to relatively more standard fare with Redburn in 1849 and White Jacket in 1850.
He did not stop thinking of heavier material, however, and began working on an ambitious sea story that would become Moby Dick. Based loosely on real accounts of a white whale that prowled the Pacific, the book was an unusual amalgamation of whaling lore and metaphysical themes.
When Moby Dick was published in 1851 it was not popular. Reviewers were generally mystified by the subject and the style of writing, and Melville, understandably, was deflated.
Later Writings
Melville's next novel, Pierre was also heavily criticized. Melville moved away from the writing of novels and concentrated on magazine articles and poetry. He would generally avoid longer works for the rest of his life. The last work of prose he published in his lifetime was a novel, The Confidence Man, published in 1857.
In 1866 Melville published a collection of poems, Battle Pieces, based on the Civil War. It was not well-received. He obtained a government job working for the New York City Customs House, and withdrew from the literary world.
After about 20 years of government work Melville retired and began to write Billy Budd, a short novel that would only be published years after his death.
He died in New York City on September 28, 1891.
Related
---
Whales in Danger Information Service