Faroe Islands Declare WAR on Whales "The Grind"

Inhabitants of Faroe Islands catch and slaughter pilot whales during the 'Grindadrap'
25 June, 2015 - The annual hunt, known as the 'grindadrap' or 'grind' which goes on throughout summer, is defended by Faroe islanders who say it is part of their cultural heritage and is a tradition stretching back over hundreds of years. But, this year the Faroe Parliament met to formulate new Grind laws that declares war on whales. These deaconian rules apply to everyone on and visiting the Islands.
"It is astounding to witness the extent to which the Faroe Islands authorities will try to ensure that they can continue to brutally kill these highly sentient beings," says Rosie Kunneke.
Three NEW laws that have been enacted are:
1 - It is an offence not inform the police if whales are spotted.
2 - All equipment, vehicles, ships or any other possession can be seized if it is suspected to have been used to try to save whales' lives.
3 - Authorities can detain anyone for up to 12 hours on the suspicion that they are going to try and save whales.

Faroe Islanders discard their kill during this senseless Drive Hunt

The methods the hunters use have long been the source of controversy. Often entire villages take part in the hunts, including children.

According to The Sea Shepherd Organisation, this year's killing season has already begun, with 154 pilot whales reportedly being slaughtered in a single day on Miovagur beach on the island of Vagar at the beginning of June. . .
Japan - The Rogue Nation out to Kill more Whales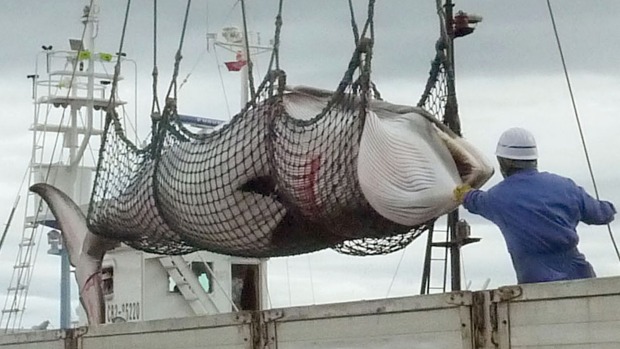 A minke whale is unloaded at a port in Kushiro in 2013. Photo: AP
Whaling ships left port in north-eastern Japan, early April, 2015 to embark on another government-backed 'scientific' whale killing program in waters of the north-western Pacific and another new Antarctic whaling program is planned for later this year despite rulings from an international court and an expert panel.
The four ships that left port in Japan could kill up to 51 minke whales in a few short weeks as part of this so-called 'research' program.
Although a member of the International Whaling Commission (IWC) Japan has killed 13,000 whales since a ban was placed on Commercial whaling in 1986 by exploiting a loophole allowing the killing of whales for 'Scientific Research' purposes.

In a landmark legal challenge, Australia initiated proceedings through the UN International Court of Justice (ICJ) alleging that Japan was pursuing a large-scale program of whaling and was using science as a thinly veiled cover for commercial whaling in the Antarctic waters. . .
2013-2014 Antarctic Anti-whaling Campaign - Operation Relentless
What are whales telling us about Earth?
Recent reports clearly show that the whales are helping researchers determine atmospheric science, Arctic oceanography, the extent of global warming, marine food web nutrition and record breaking migration patterns...

Taiji, Japan Dolphin Slaughter
| | | |
| --- | --- | --- |
| Fishermen corral and slaughter dolphins | In the remote village of Taiji, Japan a team of activists and filmakers witness and document activities deliberately being hidden from the public: More than 20,000 dolphins and porpoises are being slaughtered each year and their meat, containing toxic levels of mercury, is being sold as food in Japan, often times labeled as whale meat. | Documentary: The Cove |
"The world today will either be stepping forward into an era where conservation and the environment really matter, or it will be stepping back into the Dark Ages, where the people of the world think that the slaughter of whales using grenades, electric lances and shooting them with rifles is something that we should accept."
Ian Campbell, Australian Environment Minister - 57th IWC AGM, Monday, June 20, 2005
"If all nations in the world took 1000 whales each year, the stocks would soon be exhausted. What gives one nation the right to a larger portion of the resources of the planet that all nations hold in common?"
Sir Geoffrey Palmer, NZ Commissioner to the IWC.

World's Oceans once Teemed with Whales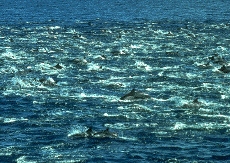 The oceans once teemed with many more now endangered marine mammals than previously thought, new genetic studies of whales suggest.
Whalemeat samples bought from a Japanese sushi market and analysed by scientists indicate that experts have seriously underestimated the size of the populations that roamed the seas before industrial- scale hunting began more than a century ago. The numbers of some species may have been 10 times greater than previously calculated.
The findings refute suggestions by whaling nations such as Japan that a resumption of hunting is justified by the increase of many whale populations beyond their natural size, the researchers said. . .

Norway's Whaling Defies Logic
Norway maintained on Tuesday (1st April) its quota of previous years to hunt up to 1,286 whales in its waters in 2014, despite whalers repeatedly catching less than the limit.

The announcement came the day after the whaling industry suffered a serious setback: the International Court of Justice ordered Japan to end its annual Antarctic whale hunt of minke and fin whales, a larger species than the minke whale Norway catches.

In Norway, where whale meat used to be considered a poor man's dish, whalers struggle to reach the quota: in 2013, only 594 whales were harpooned according to official data.

The hunting season goes from April 1 to September 30.


Norwegian whaling ship with a minke whale butchered on deck. Photo: WSPA/EIA

Whales killed annually since Norway resumed
commercial whaling