Japan No Longer Recognises the International Court of Justice in matters concerning Whales
6 October 2015 - Motohide Yoshikawa, Ambassador Extraordinary and Plenipotentiary Permanent Representative of Japan to the United Nations declared Japan will no longer recognise disputes, presented to the International Court of Justice (ICJ), brought against Japan in respect to it's harvesting of any or all living creatures of the sea. Calling every sea creature, that Japan wishes to exploit, "Living Resources" it continues it's war on whales and dolphins regardless of science and regardless of world opinion.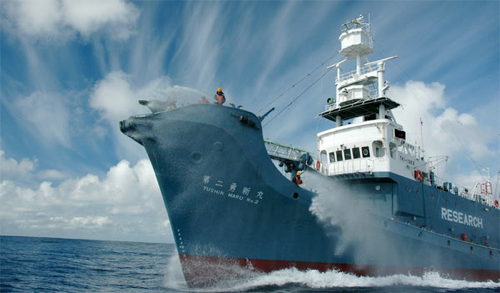 Japanese Whaling ship in the Southern Ocean Whale Santuary

As Japan is now set to unilaterally resume Antarctic whaling in December 2015, after suspending the practice in 2014 it appears that Japan has taken some pre-emptive steps to ensure not only NEWREP-A success, but any future exploitation or over fishing of the sea by Japan, cannot be challenged before the International Court.
Mr Yoshikawa states, "I have the honour, by direction of the Minister for Foreign Affairs, to declare on behalf of the Government of Japan that, in conformity with paragraph 2 of Article 36 of the Statute of the International Court of Justice, Japan recognizes as compulsory ipso facto and without special agreement, in relation to any other State accepting the same obligation and on condition of reciprocity, the jurisdiction of the International Court of Justice, over all disputes arising on and after 15 September 1958 with regard to situations or facts subsequent to the same date and being not settled by other means of peaceful settlement.
This declaration does not apply to: (1)...
(2)...
(3) any dispute arising out of, concerning, or relating to research on, or conservation, management or exploitation of, living resources of the sea.
This declaration follows the highly publicised 2014 ruling by the ICJ that Japan's previous scientific whaling program (JARPA II) was "not for the purposes of scientific research", making it contrary to international law. Japan concluded JARPA II and announced a new program, NEWREP-A which proposes to kill up to around 4,000 whales over 12 years, beginning later this year.
Japan's declaration effectively stops the International Court of Justice reviewing or ruling on the legality of any future ocean going venture or of NEWREP-A, unless Japan consents to a case being brought against it. This of course would be highly unlikely.
Is Japan's action legal?
The International Court of Justice can only exercise its power if countries agree to its jurisdiction. They may do this within a treaty, or agree to the court's power generally, subject to specific limitations.
Japan's declaration is in the latter category, accepting broad jurisdiction with the exception of "any dispute arising out of, concerning, or relating to research on, or conservation, management or exploitation of, living resources of the sea". This is clearly tailored to the provisions of the International Convention for the Regulation of Whaling, but also excludes review by the court of its other fishing programs.
Brendan Gogarty, Law Lecturer, University of Tasmania says, "The problem Japan's declaration highlights is not one of law, but one of philosophy; an arguably redundant philosophy which views science as something beyond state self interest and outside the core competency of international courts. This view is not necessarily supported by contemporary scientific or legal practice. Journals use peer review to evaluate the scientific veracity of claims. Similarly, the World Trade Organisation (along with domestic courts) has a legal framework to distinguish the better of two or more competing scientific claims. If science really is the best device to govern such matters, then it must be given the legal traction required to allow it to govern in the first place."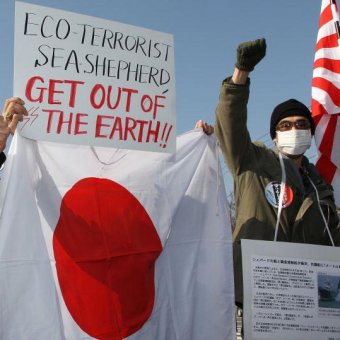 Japanese Pro Whaling Rally

North Korea slams Japan for its whaling practices, calling it a "criminal act."
Pyongyang's state newspaper Rodong Sinmun denounced Japan's heavily subsidized whaling industry in an article published with the headline, "The black-hearted intentions of the whale hunter," South Korean news agency Yonhap reported.
"While ignoring the strong condemnations of the international community, and solely for the pursuit of profits, Japan's reckless act of pursuing whale-hunting is a criminal act that is depleting the Earth's precious whale stock," Pyongyang stated.
Sea Shepherd Conservation Society Condemns Japan's Declaration
WireService Media Release - "This declaration is simply the latest example of the Japanese government's shameless disregard for international laws protecting whales," said Sea Shepherd founder Paul Watson, who has led numerous campaigns opposing Japanese whaling in the Antarctic.
Watson went on the say, "Japan promised before its case was heard that it would abide by the ruling of the ICJ. Now, after being found guilty, it has changed its mind because the court exposed its 'research whaling' as a sham, and told the world what Sea Shepherd has been saying for decades: commercial whaling in the Southern Ocean is illegal, and must stop immediately."