'Stink' attack on Japan's Whalers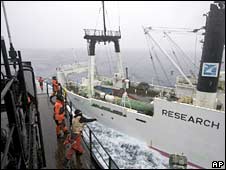 The protesters have been pursuing the
Japanese fleet for a week
An anti-whaling group says its members have thrown "stink" bombs at a Japanese whaling ship in the Antarctic.
The Sea Shepherd group said crew on one of its boats lobbed 10 bottles of rotten butter and 15 bottles of a methyl cellulose at the Japanese ship.
No-one was injured during Friday's incident (26 Dec 08) north of the Mawson Peninsula, Japanese officials said.
They said their ship was on a research expedition. Opponents say this could be a cover for banned commercial whaling.
The Sea Shepherd said the incident took place at 0730 GMT on Friday off the coast of the Australian Antarctic Territory.
The group said its members on board its ship - the Steve Irwin - threw the bottles at Japan's Kaiko Maru vessel after pursuing the Japanese whaling fleet for a week.
"That is one stinky slippery ship," Sea Shepherd's official Peter Hammarstedt said.
The group said its objective was to intimidate the Japanese whalers and keep them moving eastward out of Australian Territorial waters.
It said that the fleet had not been able to kill any whales during the chase.
Japan says its research expeditions do not violate a moratorium on commercial whaling adopted by the International Whaling Commission in 1986.
Source: BBC © MMIX