Endangered Northern Right Whales
SPECIAL NAVIGATION NOTICE
- NOTICE TO MARINERS -
You are advised that the endangered Right Whale inhabits areas along the U.S. Eastern Seaboard. In the U.S. Northeast, right whales inhabit areas within the Ambrose and Boston Harbor traffic lanes in the spring and summer. NOAA has designated Cape Cod Bay and the region east of Cape Cod as Critical Habitat for this species and has identifed Stellwagen Bank National Marine Sanctuary as an additional area of importance. The whales also aggregate in the Precautionary Area within the Great South Channel in the spring. Mariners are requested to post a lookout for Right Whales as they approach these areas and to minimize their exit and entrance speeds to the extent possible to maintain safe handling of the vessel, preferably 5 knots or less, in the channels and precautionary areas to avoid ship-whale collisions. Intentional approach to Right Whales is prohibited and may result in a violation of federal or state laws.
From December to March the coastal waters between Altamaha Sound, Georgia, and Sebastian Inlet, Florida, are the only calving grounds for the Right Whale. Vessel speeds upon exit and entrance into the ports of Miami, Florida, through Charleston, South Carolina should also be kept at a minimum. Right Whale sightings in these areas should be reported to Coast Gaurd Group Mayport via VHF-FM radio or to the Georgia Department of Natural Resources (800-272-8363).
Northern Right Whales
Range from Maine to Florida and are often killed by commercial shipping and cruise boats and are killed or entangled by virtually every commercial fishery along the coast.
There have been only 12 records of right whales off California (including one off Baja) this century, all since 1955. All indications are that the E. North Pacific population is exceedingly small and may be on its way out.
No-one wants to see the last of the Right Whales killed off. If you do not want the U.S. to kill off a species of whale, then you have got to act.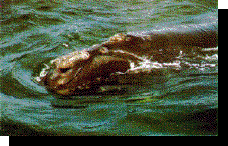 Norther Right Whale
What's Happened So Far
On Dec. 16, 1996, the State of Massachusetts, in response to a federal court order, submitted plans to require a modification to weaken lobster fishing buoy lines used in Cape Cod Bay that might entangle right whales. Lobstermen would be required to weaken buoy lines by February 1997, with the State developing a special weak buoy line to be required by January 1998. Floating lines will also have to be replaced by sinking lines. Gear restrictions to protect whales would be required from January through mid-May annually. U.S. District Judge Douglas P. Woodlock must approve the state's proposed plan. Gillnet fishing would also be banned in state waters frequented by whales.
On Dec. 16, 1996, NMFS announced its intention to close the Great South Channel east of Cape Cod to gillnet and lobster fishing from April 1 to June 30 annually to protect right whales.
In early January 1997, NMFS reclassified the Gulf of Maine/Mid-Atlantic lobster trap/pot fishery from Category III to Category I under its Marine Mammal Authorization Program to better manage the interactions of this fishery's 13,000 fishermen with right whales.
On Jan. 16, 1997, the New England Fishery Management Council began consideration of a proposal to prohibit gillnet fishing in certain offshore federal waters near Cape Cod Bay and the Great South Channel annually between January and June to better protect right whales. The State of MA was reported to have implemented similar prohibitions in inshore state waters in early January 1997.
On Jan. 16, 1997, the U.S. Coast Guard announced that it had begun weekly flights over New England waters to spot whales and warn ships.
On Jan. 30, 1997, the New England Fishery Management Council approved regulations limiting gillnet fishing near Cape Cod Bay (January 1 through May 15) and the Great South Channel (April 1 through June 30) annually to protect right whales. NMFS must decide whether to accept the proposed regulations. [NMFS press release, Assoc Press]
Whales in Danger Information Service