Baba Dioum
---
"In The End We Will Conserve Only What We Love. We Will Love Only What We Understand. We Will Understand Only What We Are Taught"
This quote1 is derived from a 1968 speech made in New Delhi, India by the Senegalese environmentalist, Baba Dioum, to the general assembly of the International Union for Conservation of Nature . Mr. Dioum was born in Dahra, Senegal on October 15, 1937. He studied ecology at the Ecole Nationale des Eaux et Forets in Nancy, France where he received a degree in Forestry Engineering. Since that time his career has centered around environmental issues in Africa, including conservation, water and agricultural policy.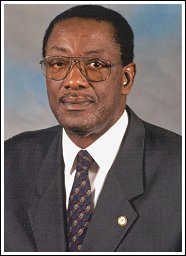 He is currently the General Coordinator of the Conference of Ministers of West and Central Africa (CMA/WCA)2, an organization representing twenty African countries. In addition, Mr. Dioum3 serves on the boards of the International Fertilizer Development Center (IFDC)4 located in Muscle Shoals, Alabama. Mr. Dioum was a founding member of the International Union for the Conservation of Nature and the International Council for Environmental Law as well as the Director of the Agricultural Policy Unit for the Senegalese Ministry of Agriculture.
Sources

1 Dictionary of Environmental Quotations, Rodes and Odell, Johns Hopkins Univ Pr, 1997, ISBN: 0801857384
2 CMA/WCA website (in French): http://www.cmaoc.org
3 Contact information for Baba Dioum: http://www.cmaoc.org/ctcorgen.htm
4 IFDC: http://www.ifdc.org/Board_of_Directors/baba_dioum.html
---
BACK

Whales in Danger Information Service - http://www.whales.org.au