Looking for just the right piece of art for the living room?
Or maybe a treasure for the entrance hall?
We call it 'Whale Art' but it is not something that has been washed up on the beach. Far from it. In fact, many artists have been inspired by cetaceans and have endeavoured to capture a small piece of nature. Their efforts have been rewarded for a whale must be one of the most pleasing and relaxing creatures to see. Stop a while and enjoy some of the art we have discovered in our travels on the Internet.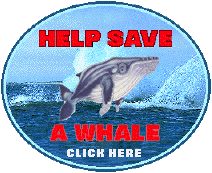 CLICK HERE TO HELP A WHALE