Great Australian Bight Drilling Threat Returns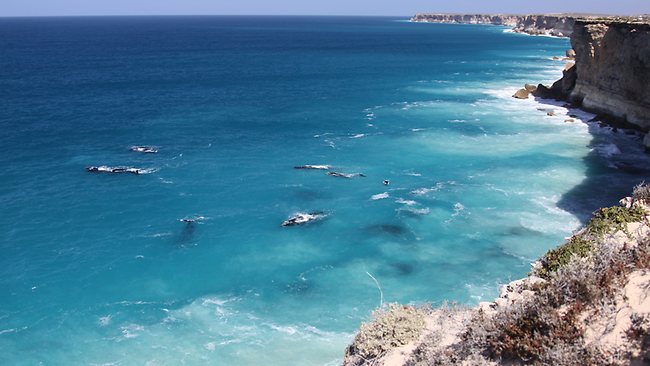 After BP Oil cancelled it's plan to drill in the Bight another company has been given a permit to explore for oil in the marine reserve, sparking calls from environmentalists for a moratorium on new licences.
Karoon Gas Australia announced to the Australian Stock Exchange that it had been approved to explore for oil in "17,793 square kilometres of Australia's most active and prospective frontier oil exploration province" the Ceduna sub-basin.
"It's outrageous the National Offshore Petroleum Titles Administrator is issuing more exploration permits in the Great Australian Bight considering the massive opposition to BP's plans to drill for oil in the Bight," said the Wilderness Society's South Australian director, Peter Owen. . .

Humpback Entangled in Shark Net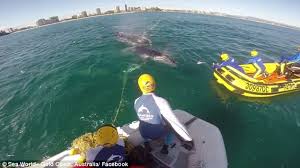 A young whale has been set free by a Marine Rescue Team after becoming trapped in a shark net off Coolangatta Beach on the Gold Coast, Queensland.
Video shows rescuers working to free the young whale from the net, as its mother keeps close watch. . .

Atlantic Whale Sanctuary Rejected at IWC'70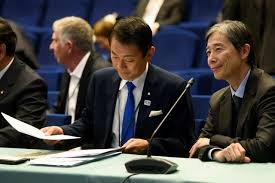 IWC-70 addressed a proposal for a South Atlantic Whale Sanctuary for which Brazil's Environment Minister Sarney Filho called the initiative "a mature proposal," which has been revised and refined over many years. He said the sanctuary would benefit coastal states and emphasized their broad support, including more than one million signatures from civil society.
Japan repeated they believe the sustainable use of marine living resources is consistent with environmental protection and unable to not able to support the proposal as it is based on the idea of total protection of whales. . .

Is that All We get from the Australian Prime Minister... Disappointed?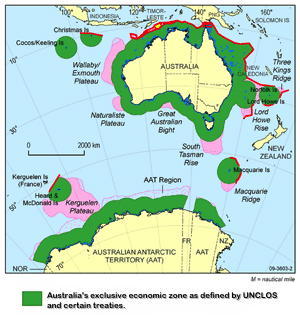 Australian PM Malcolm Turnbull has said he is "very dis-appointed" by Japan's decision to resume Antarctic whaling. Chief Executive Michael Kennedy (HSI) says, "Japan always claimed it was doing its work legally. Well our court case in 2004 and the ICJ in 2014 proves that nothing they do in our view is at all legal."
It is time to act. The Australian Government must stand up and stop the whalers who are poaches heading to a Whale Sanctuary to murder and butcher the animals the Sanctuary protects. These poaches in their Factory Ship, the Nisshin Maru, must be turned back to Japan without killing one whale. . .

Japanese Southern Ocean Whaling Ruled NOT Scientific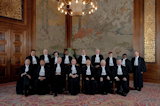 The Inter-national Court of Justice (ICJ) in The Hague announced their binding decision on 31 March, 2014 in the landmark case of Australia v. Japan, ruling that Japan's JARPA II whaling program in the Antarctic is not for scientific purposes and ordered a temporary halt to the whaling program and not to issue whaling permits at least until the program has been thoroughly revamped.
Although the decision is a major victory for Australia and environmental groups that oppose whaling on ethical grounds, it will not mean the end of whaling. The ruling said explicitly that killing whales for scientific purposes would be legal under international law in the context of a better-designed study. Japan's program was supposed to determine whether commercial whaling of some species can resume without bringing them in danger of extinction. . .

Iceland ships 2,000 tons of endangered fin whale meat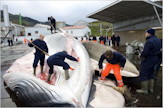 The Inter-national Fund for Animal Welfare (IFAW) raised the issue in Iceland after learning that Loftsson's stockpile of fin whale meat was being loaded onto the Alma cargo vessel in Hafnarfjordur Harbour near Reykjavík, bound for Japan.
Fin whales are listed as endangered on the IUCN Red List. Ports and carriers in Europe publicly rejected the whale meat trade by returning containers, to Iceland, after inspection in Rotterdam and Hamburg and found to contain Fin whale meat. A total of 280 fin whales were killed in Iceland's waters between 2006 and 2010. . .

Japan MUST be Expelled from the IWC

When it comes down to the smooth running of the International Whaling Commission (IWC) and it's orderly administration which country is the most disruptive? Which country gives aid money for votes? Which country takes up far too much time at meetings? Which country consistantly ignores the wishes of the Commission? Which country still kills whales? Japan!
Looking, on a per capita basis, at how many people want to kill whales, the details are quite astounding. It makes one wonder how a small group of people can disrupt a perfectly good international organisation and simply "buck the system". . .

International Anti-whaling Campaign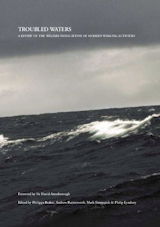 The Whalewatch report, Troubled Waters, was published March 9th to mark the start of the global campaign against whaling.
Britain's best-known naturalist, Sir David Attenborough, stresses the point in his foreword to the report. "The following pages contain hard scientific dispassionate evidence that there is no humane way to kill a whale at sea," says the broadcaster . . .

Whales are Not the Major Causes of Dwindling Fish Stocks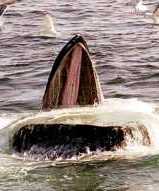 N.O.A.A. US Department of Commerce
Today's marine science community has enough expertise and experience with the complex ocean ecosystem to recognise that the "competition" claim is oversimplified and the hunting proposal is biologically unsound.
As a whole, whales do not eat "large quantities of fish as food," nor do they threaten the health of the world's limited marine fish resources. Some whale species do prey on fish, but often on fish that humans do not consume. In truth, it is humans who continue to threaten the world's stocks through overfishing and reluctance to allow stocks to naturally replenish . . .

Japan Fights Whale Conservation Measure

The Inter-national Whaling Commission opened its annual meeting (IWC'55) in Berlin under the threat of a Japanese walkout if the Commission adopts a hotly contested measure designed to improve whale protection.
The 19 sponsors of the "Berlin Initiative" include the United States, Britain and Australia. The measure calls for working with global wildlife groups to better protect the marine mammals. Japan says the proposal focuses too much on conservation at the expense of sustainable harvests. The meeting began with an argument between the commission's pro- and anti-whaling factions over whether it should be dropped from the agenda altogether . . .

Say NO to Navy Noise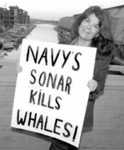 Eco-activist Diana Mann
Photo by Jack Gould
Low frequency active sonar is based on very low frequency sound [100-1000 Hz] can travel great distances and detect quiet submarines. The system uses intense sound. The US Navy has given a figure of sounds as loud as 235 decibels generated by massive sound transmitters towed behind TAGOS-class ships. The noise level of a jet engine is about 120 decibels.
A NATO LFA exercise in 1998 left numerous dead beaked whales on the coast of Greece. LFA testing off the Island of Hawaii in 1998 caused humpback whales to leave the test area, apparently resulted in separation of whale and dolphin calves from their mothers, and injured a snorkeler in the water. . .

18 Countries Call on Japan to End Scientific Whaling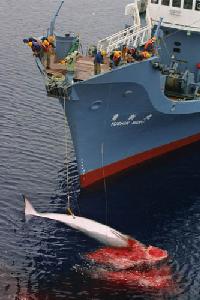 Australia joined 17 other countries in making a demarche to Japan opposing its scientific whaling program.
The demarche sets out our strong concerns about Japan's continuing program of lethal whaling. Australia is disappointed that Japan is now expanding its program of whaling in the North Pacific to include another species, the Sei whale.
There is ample evidence that the scientific objectives of Japan's research program could be achieved using non-lethal means. . .

ERRONEOUS Decision to Delist Humpback Whales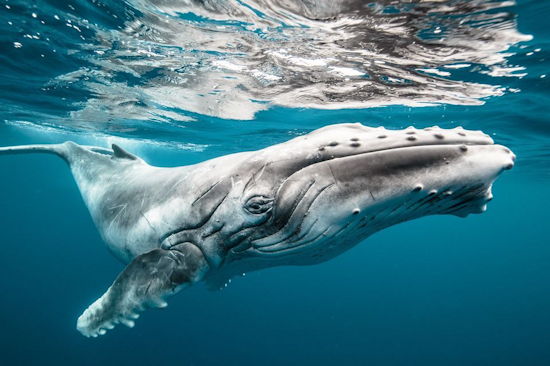 Photo: National Geographic
News media are reporting that the United States Federal authorities (National Marine Fisheries Service) have taken most humpback whales off the endangered species list, saying their numbers have recovered through international efforts to protect the giant mammals.
The US decision to delist Humpback whales is based on a new erroneous theory that there are 14 Humpback Whale populations in the worlds oceans and although that may appear true today, historically, there were only TWO populations i.e. Southern & Northern Hemisphere. By creating 14 individual Humpback populations the US NMFA has "juggled the books" and manufactured this misguided plan based upon ficticious Humpback Whale Distinct Population Segements (DPS) that it devised in 1996.
A Whalemeat DNA study by marine biologists at Stanford University in California, found that the genetic diversity of whales is so large that it can only mean that past population sizes were much bigger than anyone had estimated. The analysis of humpback whale DNA, enabled the marine biologists to estimate the past population size of breeding females alone must have been between 125,000 and 250,000 individuals and since mature breeding females make up about one sixth to one eighth of a whale population, these numbers suggest a global humpback whale population size [in the past] of about 750,000 to 2 million animals.
WOTN calculates 64% to 74% of Humpback whales are missing from the Southern Hemisphere today... but "Today's news is a true ecological success story," said Eileen Sobeck, assistant NOAA administrator for fisheries. She hopes we will believe her. . .

Japanese Whaling Fleet Heads For The Antarctic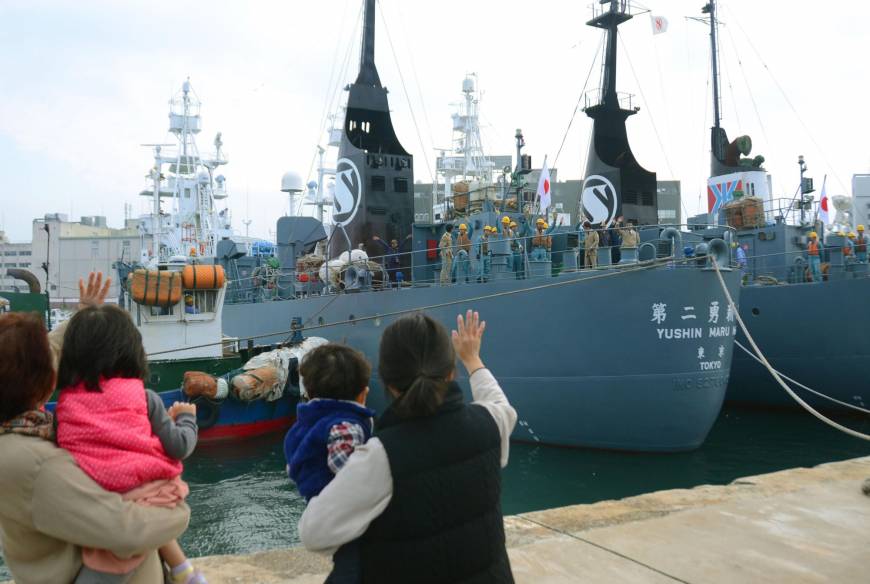 Two Japanese whaling ships leave the port in Shimonoseki - Photo KYODO
Two Japanese whaling ships set off Friday (18 Nov'16) for Japan's annual hunt in the Antarctic Ocean despite widespread international opposition.
The ships, the 724-ton Yushin Maru and 747-ton Yushin Maru No. 2, set out from the port city of Shimonoseki in Yamaguchi Prefecture, Western Japan, and will join two other whaling vessels and the 8,145-ton whalemeat processing factory ship Nisshin Maru to form a fleet, with the plan to kill 333 minke whales by March, 2017.
Sea Shepherd Australia has expressed its intention to block Japan's whaling, with it's new ship, the Ocean Warrior and it's former persuit vessel the Steve Irwin. With the likelihood of high-seas protest clashes over the summer media is reporting the tension, around Japan's decision to resume killing whales after the hunt being ruled illegal, is rising.
The Japanese agency is planning to monitor Sea Shepherd's activities from one of its patrol/catcher vessels, that has in previous encounters, applied extremely agressive maneuvers. . .

2016 Southern Ocean Whale Defence Campaign
The Ocean Warrior Arrives in Hobart
The OCEAN WARRIOR left Amsterdam on the weekend of 2 October, 2016 to sail to Melbourne, Australia to begin "Operation Nemesis" Sea Shepherd's 11th campaign in the Southern Ocean.
The vessel passed through the Strait of Gibraltar, with Europe on the port side and Africa to starboard, then sailed via the Suez Canal and into the Indian Ocean where it went silent.
Contact was again made when the vessel rounded Albany in Western Australia after which it sailed to Melbourne, arriving on 15th November, 2016. From there it sailed to Hobart in Tasmania.
Hobart Arrival Date: 2 December, 2016



CURRENT POSITION
"The one thing that we were missing in our fleet was a vessel with speed and endurance," said Alex Cornelissen, chief executive of Sea Shepherd Global and the ships Captain.
"With the Ocean Warrior, we have a ship that can outmatch any poaching vessel on the high seas," he said. . .

What are whales telling us about Earth?
Recent reports clearly show that the whales are helping researchers determine atmospheric science, Arctic oceanography, the extent of global warming, marine food web nutrition and record breaking migration patterns...

Taiji, Japan Dolphin Slaughter
In the remote village of Taiji, Japan a team of activists and filmakers witness and document activities deliberately being hidden from the public: More than 20,000 dolphins and porpoises are being slaughtered each year and their meat, containing toxic levels of mercury, is being sold as food in Japan, often times labeled as whale meat.
"The world today will either be stepping forward into an era where conservation and the environment really matter, or it will be stepping back into the Dark Ages, where the people of the world think that the slaughter of whales using grenades, electric lances and shooting them with rifles is something that we should accept".
Ian Campbell, Australian Environment Minister - 57th IWC AGM, Monday, June 20, 2005
"If all nations in the world took 1000 whales each year, the stocks would soon be exhausted. What gives one nation the right to a larger portion of the resources of the planet that all nations hold in common?"
Sir Geoffrey Palmer, NZ Commissioner to the IWC.

World's Oceans once Teemed with Whales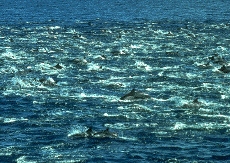 The oceans once teemed with many more now endangered marine mammals than previously thought, new genetic studies of whales suggest.
Whalemeat samples bought from a Japanese sushi market and analysed by scientists indicate that experts have seriously underestimated the size of the populations that roamed the seas before industrial- scale hunting began more than a century ago. The numbers of some species may have been 10 times greater than previously calculated.
The findings refute suggestions by whaling nations such as Japan that a resumption of hunting is justified by the increase of many whale populations beyond their natural size, the researchers said. . .

Norway's Whaling Defies Logic

Norway maintains its quota of previous years to hunt up to 1,286 whales in its waters in 2015, despite whalers repeatedly catching less than the limit.

Despite declining sales, government subsidies continue to keep a small number of fishermen hunting in the summer. While whaling is unnecessary, uneconomical and unquestionably cruel Norway has aggressively fought to retain its right to hunt whales.

In Norway, where whale meat used to be considered a poor man's dish, whalers struggled to reach the quota in 2014 with only 729 whales harpooned, according to official data.

The hunting season goes from April 1 to September 30.


Norwegian whaling ship with a minke whale butchered on deck. Photo: WSPA/EIA
How Modern Norway Clings to its Whaling Past

Produced by the Animal Welfare Institute (AWI), OceanCare and Pro-Wildlife, details Norway's undermining of the International Whaling Commission (IWC) ban on commercial whaling and exposes the growth of its overseas trade in whale products.
| | |
| --- | --- |
| Whales killed annually since Norway resumed commercial whaling | |
The 'Grindadrap' - Faroe Islands Declare WAR on Whales

Video: Ross McCall - Actor, screenwriter, filmmaker, activist
More than 1000 long-finned pilot whales are killed in the Faroese Islands, a Danish protectorate, every year by wealthy islanders, who have no subsistence need for whale meat but to consume it as a cultural prerogative.
The hunt, known as a "grind," is horrifically cruel. North Atlantic and migratory North Sea Pilot whales are driven into shore by fishing boats, then roped and hauled on until they beach themselves.
Actor Ross McCall, in his Huffington Post article says, "Truthfully, I've looked, I've listened. I've allowed people to voice their side. A high percentage claim to be indifferent about the Grind. Fine if it continues, fine if it ends. But, for the staunch supporters, it ultimately comes down to the fact that this is something the whalers and locals enjoy. Something that gets the aggression out. And something they seem petrified of letting go". . .