Court Decision will bring Shift in Whaling Politics
"The International Court of Justice proceedings that finished on Tuesday night (16 July, 2013) have given this conservation sore point the best of possible hearings. The written cases of each side traverse the mountains and valleys of this issue in awesome detail". - Andrew Darby, Correspondent for Fairfax Media
Australia's oral arguments offered by its lawyers were considered and thorough. It was clear that Professor James Crawford, in particular, at times held the 16 judges' attention in the palm of his hand. But Japan's response was no less accomplished. And after all of the papers and speeches, the case boils down to one question: "Is Japan's Antarctic whaling allowed under the IWC's scientific permit clause?"
Professor Crawford said the Court's duty was to recognise that Japan did not "own" the whales it caught, and the global whaling convention was not a bilateral treaty between Japan and the rest of the world. Japan had rejected choices within the convention such as lodging an objection to the global moratorium, he said. "What I suggest it cannot do is to invent new forms of opting out of the convention by legal sophistry after the event," he said.
For Japan's part, Mr Tsuruoka repeated a core principle of international law: "What you have agreed you are bound to observe. What you have not agreed, however, does not bind you. "Japan observed the moratorium," Mr Tsuruoka said. "But Japan believes the convention does not bind Japan from conducting scientific research whaling, because it is in accordance with the convention". . .

Japan whalers have'worst ever' catch
The Japanese whaling fleet has had its worst ever season in the southern ocean, an anti-whaling group claims. Sea Shepherd Australia says the Japanese fleet managed to catch only 103 whales in 2012-13, less than 10 per cent of its annual quota.
The Japanese Institute for Cetacean Research had intended to catch 50 humpback whales, 50 fin whales and 935 minke whales this season. Sea Shepherd Australia Captain Siddharth Chakravarty is delighted to have held back the Japanese fleet, saying it had lost prestige.
"It is a definitely an epic moment in Sea Shepherd's history, however it is an even bigger one for the whales," he said in a statement. "The whales were spared the harpoons" . . .

2011-2012 Antarctic Anti Whaling Campaign - Divine Wind
What are whales telling us about Earth?
Recent reports clearly show that the whales are helping researchers determine atmospheric science, Arctic oceanography, the extent of global warming, marine food web nutrition and record breaking migration patterns...

Taiji, Japan Dolphin Slaughter
| | | |
| --- | --- | --- |
| Fishermen corral and slaughter dolphins | In the remote village of Taiji, Japan a team of activists and filmakers witness and document activities deliberately being hidden from the public: More than 20,000 dolphins and porpoises are being slaughtered each year and their meat, containing toxic levels of mercury, is being sold as food in Japan, often times labeled as whale meat. | Documentary: The Cove |
"The world today will either be stepping forward into an era where conservation and the environment really matter, or it will be stepping back into the Dark Ages, where the people of the world think that the slaughter of whales using grenades, electric lances and shooting them with rifles is something that we should accept."
Ian Campbell, Australian Environment Minister - 57th IWC AGM, Monday, June 20, 2005
"If all nations in the world took 1000 whales each year, the stocks would soon be exhausted. What gives one nation the right to a larger portion of the resources of the planet that all nations hold in common?"
Sir Geoffrey Palmer, NZ Commissioner to the IWC.

World's Oceans once Teemed with Whales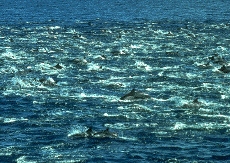 The oceans once teemed with many more now endangered marine mammals than previously thought, new genetic studies of whales suggest.
Whalemeat samples bought from a Japanese sushi market and analysed by scientists indicate that experts have seriously underestimated the size of the populations that roamed the seas before industrial- scale hunting began more than a century ago. The numbers of some species may have been 10 times greater than previously calculated.
The findings refute suggestions by whaling nations such as Japan that a resumption of hunting is justified by the increase of many whale populations beyond their natural size, the researchers said. . .

Norway's Whaling Defies Logic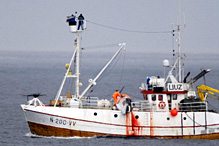 Norwegian whaling ship with a minke whale butchered on deck. Photo: WSPA/EIA
Norway's 2010 whaling quota of 1286 is their largest since choosing to defy the International Whaling Commission (IWC) moratorium on commercial whaling in 1983 and defies logic as the market for whalemeat simply isn't there.
This is the first time in recent years that Norway has overtaken Japan in terms of the sheer number of animals they plan to slaughter. This new Japan-beating target is more about politics than anything else.
Norway's own official data shows that at least one in five hunted whales suffer long and agonizing deaths from harpoon and rifle wounds - visibility, sea swells and whale movements make it impossible to ensure a humane kill.

Whales killed annually since Norway resumed
commercial whaling