Australia Hosts Sea Shepherd, Despite Japan's Requests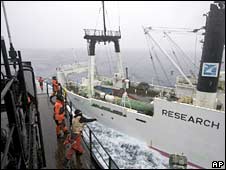 The protesters have been pursuing the
Japanese fleet for a week
The organization can dock anywhere in the country
In a predictable move, Australia thoroughly dismissed Japan's requests of not allowing Steve Irwin, the flagship of the Sea Shepherd Conservation Society, to dock for refueling in any of the island nation's ports. The ship has been engaged in the pursuit of the Japanese whaling fleet since the beginning of this year's season and has already collided with one of the whalers. Acting Australian Prime Minister Julia Gillard said blankly that there simply were no sufficient reasons for refusing the organization to refuel in the country's harbors.
Australia was virtually home for Sea Shepherd over the last years, when most raids conducted in the Antarctic Ocean, meant at disrupting Japan's annual whale cull, were based in the nation's ports. Public support is also very high for the conservation group, with people actively supporting crew members with supplies and donations.
Although Julia Gillard risks another diplomatic incident with Japan, as the one that took place last year, she said that "The Steve Irwin will be permitted to dock at an Australian port. There is insufficient reason to prevent the Steve Irwin from doing that." In the 2007/2008 whaling season, the Australian navy sent one of its icebreakers to survey the Japanese fleet in the waters south of its borders, with the purpose of building up an international case against the Asian nation.
Under a 1986 UN Charter, commercial whaling is prohibited worldwide, as most whale species are barely recovering from near-extinction. Australia and other anti-whaling nations constantly accuse Japan of disregarding this law, and for poorly disguising its violations under the thin veil of a "scientific experiment."
Through this gesture, Australia proves to Tokyo authorities that it fully endorses the organization, which is known for its guerrilla tactics. Thus far, Sea Shepherd vessels sank about 9 whalers, in various parts of the world, in a bid to stop illegal whale hunting. Now, as soon as the Steve Irwin is refueled, the ship will take off in search for the Japanese fleet once more. Thus far, in about three weeks, the society pushed their rivals about 2,000 miles eastwards, off the water of Australia and into those of New Zealand.
Source: SoftPedia