Gunboat Diplomacy Rules the Seas
December 29, 2007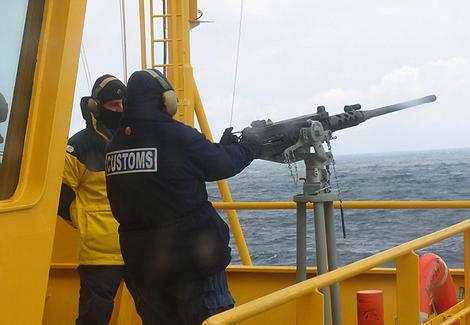 Customs officers fire a machine-gun on board Oceanic Viking, which is shadowing the Japanese whaling fleet. Australian Customs Photo: Australian Customs
Australia's deployment of an armed ship to monitor whaling is part of a bigger political picture, writes Andrew Darby.
Take a group of fit young paramilitary Australians, give them a need to let off steam while they policed a beat in the vast Southern Ocean, and a big ship to do it on.
What did they come up with? Dodgeball.
In a former life, the Australian fisheries patrol ship Oceanic Viking, now tasked with chasing Japanese whalers, was a cable layer. It carried long lines of undersea cable, coiled in tall cylindrical holds amidships.
A new use was found for these empty steel-lined spaces by the Customs officers keen to stay sharp for work, like the armed boarding of an illegal fishing vessel on the high seas: they climbed in and tossed a ball around.
Imagine it. Not only do you have to anticipate the ship's movement on the ocean, you have to dodge another man's throw as the ball bounces off the rounded steel walls.
Oceanic Viking's dodgeball games were disclosed to the Herald when the ship called into Hobart after arresting the illegal fisher Taruman. The Cambodian-flagged ship was caught near sub-Antarctic Macquarie Island with 130 tonnes of prized Patagonian toothfish on board.
The 9000-tonne Viking also has some more regular features of a patrol ship: there is a confinement deck, where an entire crew can be locked up in basic comfort; a dazzling array of electronic surveillance equipment, and machine-gun mounts just forward of the bridge. As the seaborne pursuit of the Japanese whaling fleet by another country is taken up for the first time, experience with dodgeball should count for what lies ahead. Australia will score a hit if it captures video evidence of whales being killed and slaughtered as any footage is sure to be used in international legal action.
Other players have different goals. Greenpeace intends to intervene against the whalers, and to record the whaling activities to spread a message about the cruelty. Sea Shepherd wants to attack the whaling fleet and stop it. The Japanese fleet just wants to dodge any of this attention.
All of this is taking place within the framework of a much larger political game. Japan's pre-Christmas decision to drop humpback whales from its hunt, for now, is intimately linked to an international shift back towards commercial whaling, details of a deal between the US and Japan show.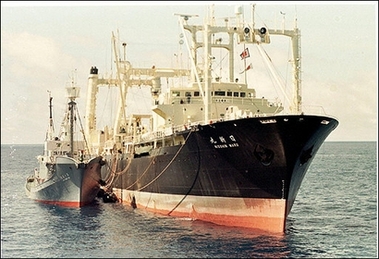 Nisshin Maru - Whale Slaughtering Mother Ship
The fleet's six ships left their home port on November 18, planning to hunt up to 935 minke whales, 50 endangered fin whales and 50 threatened humpbacks, the latter from stocks that migrate up and down along the Australian coastline.
It was to be the first full season of a "scientific research" program known as JARPA II and intended to run for many years. Japan argues that whales should be treated like any other marine resource, and its research program is needed to understand the resource so that it can be preserved for use by future generations. Its Foreign Affairs Minister, Masahiko Koumura, said it was entirely legal. "I do not think there are any problems with Japan's actions," he said.
Opponents of JARPA II think it a sham designed to allow a disguised commercial operation, despite a long-standing international moratorium prohibiting this industry. "Australia strongly believes there is no credible scientific justification for the hunting of whales," the Rudd Government said while announcing its policy to stop the "senseless and brutal" practice.
Until now, opposition on the water has been confined to protests by Sea Shepherd and Greenpeace, which have meant hazards enough for the Japanese fleet. In the past two summers, whalers' ships have been involved in four collisions. Last January, two maydays were issued, and an ageing factory ship, Nisshin Maru, caught fire, resulting in the death of a crewman.
This year Japan's heightened sensitivity to its fleet's movements was clear when Nisshin Maru eluded the Greenpeace ship Esperanza on leaving port in Shimonoseki. Greenpeace says the Japanese navy co-operated with the whalers to offer a sophisticated night-time decoy, and it worked. Only at dawn did the Greenpeace crew realise they were pursuing a naval ship; Nisshin Maru was nowhere to be seen.

Greenpeace Protests Japanese FAKE Research to Nisshin Maru
After that, the fleet is believed to have formed, steamed through Indonesia's Lombok Strait and down through the Indian Ocean to begin whaling in a zone that stretches from below Africa, eastwards to beneath New Zealand.
In recent years it has taken Greenpeace and Sea Shepherd weeks to find the whaling fleet. This time, Australian Government expertise and equipment should shorten the task of discovery. The Foreign Minister, Stephen Smith, said first the Government would use a long-range Airbus A319. This aircraft recently opened an Antarctic air link with Hobart by landing at Casey Station's Wilkins ice runway, near the midpoint of the Japanese whaling area offshore. The Airbus's published schedule shows it had opportunities for surveillance operations before Christmas, but if it is treated like Oceanic Viking, its flights will not be made public first.
"This sort of information can be handy to other people, such as illegal fishers," a Customs spokesman, Matt Morrissey, said. Smith would only say that Oceanic Viking was leaving "within a few days" from Fremantle when he announced the mission.
It would spend about 20 days with the fleet, which expects to be whaling until March, according to plans released by Japan's Institute for Cetacean Research. The Viking's guns will be dismounted and it will operate at a "safe distance" as it gathers evidence. Anti-whaling groups are disappointed by this.
"Our response to Australia's announcement of their 'plan' to protect the whales is to drop the camera and pick up your guns and enforce the bloody laws, mate," Sea Shepherd's captain, Paul Watson, said.
The enigmatic Watson has his own trouble with this task. His ship, the Steve Irwin, was forced to return to Melbourne with mechanical trouble, which he hopes to clear this weekend.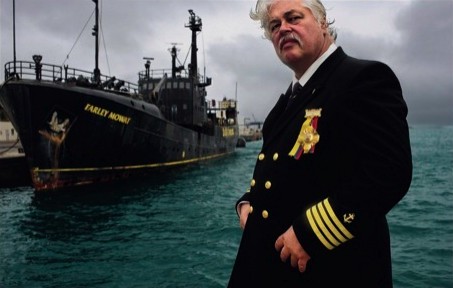 Paul Watson and the MV Steve Urwin formally the Farley Mowat
In an end-of-year vow, Watson committed his ship and its 37 crew to "battle with the most ruthless and heartless killers on this planet - the outlaw Japanese whalers presently murdering whales in the Southern Ocean whale sanctuary. We must find them and we must stop them and we must do so with 100 per cent resolve, without hesitation and without fear," he said.
And before Greenpeace, which encountered more trouble after the shakedown off Shimonoseki. It had to offload its helicopter in New Zealand because it lacked safety equipment, which could not be replaced in time. In the past, the little chopper proved critical to finding and documenting the fleet, but Esperanza is now in the "furious 50" latitudes, steaming south without it, and hoping for its luck to change.
Outside the whaling zone, the Rudd Government has begun to fulfil its commitment to step up diplomatic pressure against the hunt. The Australian ambassador, Murray McLean, led the latest joint diplomatic protest in Tokyo last week. A draft of the protest note obtained by the Herald indicates that the 32 nations who joined it made a polite, inoffensive plea.
They concluded: "Taking into consideration the Government of Japan's environmental credentials in several areas, we strongly urge Japan to join the international community and cease all its lethal scientific research on whales."
A conspicuous absentee from the signatories was the United States, and a transcript of remarks by the Japanese Foreign Affairs Minister posted this week on the internet, showed why.
The American commissioner to the International Whaling Commission, William Hogarth, is also that body's chairman. In that capacity, Hogarth asked Japan, as a gesture of co-operation, to "review" its plan to take humpback whales, Koumura said.
"Mr Hogarth indicated his opinion to me that the IWC is currently not functioning effectively, and he is seeking to remedy this situation, for which he asks the co-operation of Japan, currently vice-chair of the IWC.
"Japan has decided to postpone its catch of this species while the IWC is judged to move towards a normalisation of its activities."
Japan has been pursuing "normalisation" of the whaling commission for several years. In its view, the 60-year-old organisation needs to return to its original purpose, the regulation of commercial whaling. With numbers now deadlocked between pro- and anti-whaling sides in the 78-nation commission, Japan is looking for leverage to make that change.
Observers like the International Fund for Animal Welfare think it is at least a positive that the foreign ministry is engaged in the whaling issue, long dominated by Japan's hardline Fisheries Agency. "In some respects Japan is trying to hold the IWC hostage," the fund's Asia-Pacific campaigner, Darren Kindleysides, said, "and that is really beneath the dignity of a great nation like Japan."
Koumura offered a new deadline. One or two years would be enough to judge if the whaling commission was moving towards normalisation, he said.
The contest over whaling does sometimes seems like a never-ending game of dodgeball.
Sydney Morning Herald - Specials - Whale Watch
Copyright © 2007. The Sydney Morning Herald.