Japanese Whalers Leave for Illegal Whale Hunt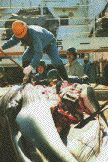 TOKYO, 6 November, 2002 (WID News) - A fleet of five Japanese whaling vessels left port in southern Japan on Tuesday 6th November, 2001, on a six-month mission to hunt up to 400 minke whales in the Antarctic as opponents protested from the pier.
A limited hunt is permitted under the research rules of the International Whaling Commission (IWC) but the killing of 400 whales far exceeds ethical scientific values. Opponents and the IWC itself are demanding that Japan switch to non-lethal research methods, saying its refusal to do so raises suspicions about its motives.
"We believe Japan's research is commercial whaling in disguise," said Naoko Funahashi, head of Japanese branch of International Fund for Animal Welfare.
"Although they say it's science, what we see is whales killed and their meat sold for profits."
The Japanese government, however, estimates that there are 760,000 minke whales in the Antarctic and says that the whaling expedition poses no threat to the species. Japan caught 440 minkes last year in the Antarctic.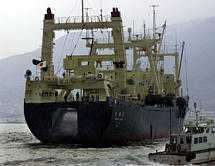 The Japanese program of scientific research is aimed at gathering data on the feeding habits, migration and life cycle of whales. Data the IWC itself never wanted or asked for.
The whaling fleet that left the southern port of Shimonoseki, 517 miles southwest of Tokyo, was the second such expedition by Japan this year. In May and June, Japanese whalers slaughtered 100 Minkes, 50 Bryde's and eight Sperm whales in the northwest Pacific. A total of 158 whales killed and fed to restaurant patrons in the name of science.
As the fleet sailed away, a group of protesters from the environmental group Greenpeace wearing eyeball-shaped costumes chanted slogans and waved banners reading, "The world is watching." Similar protests were conducted abroad.
Japan and Norway argue that whale stocks are strong enough in many regions to withstand limited industrial hunts. Opponents argue that Japan has not researched many regions at all.
"This time we plan to catch only the Minkes, which exist abundantly. We refuse to accept demands that we should not catch even one,'' said Joji Morishita, a Fishery Agency official in charge of whaling.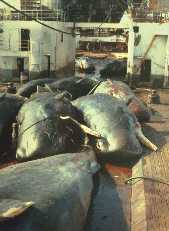 New evidence, however, submitted to the nations of the IWC at their last meeting indicates this is not so. Research documents suggest the whale population estimate in the Antarctic is much smaller than Japan claims. The IWC, which banned commercial whaling in 1986, is planning its own survey.
In Wellington, New Zealand Conservation Minister Sandra Lee demanded that Japan stop Tuesday's embarkation, calling it "despicable."
New Zealand and the majority of other IWC member countries want a whale sanctuary in the Southern Hemisphere but voting fell short of the required three-quarters at the last meeting.
In July the IWC ended with strong resolutions demanding Japan and Norway uphold the 15-year-old moratorium. The next IWC meeting is slated to be held in Shimonoseki in May.
Despite the ban on commercial whaling, whale meat is sold in Japanese restaurants, which get their stock from the research program.