Illegal Japanese Whalers found in Australian Waters

Australian research vessel Aurora Australis
Photo courtesy University of Delaware
College of Marine Studies
Australia Moves Against Japanese Whalers
CANBERRA, Australia, January 2, 2002 (ENS) - Australia has attempted to expel whaling ships from Antarctic waters it claims as Australian, after its resupply ship found the bulk of the Japanese whaling fleet there.
The Australian vessel Aurora Australis made the attempt when it found the the chaser Kyo Maru Number One and the factory ship Nisshin Maru off the West Ice Shelf early on New Year's Day.
A third unidentified ship from the five vessel Japanese fleet was sighted about eight nautical miles distant, according to a spokesman for the Australian government's Antarctic Division.
The Japanese vessels were located at around 64.02 south and 82.13 east, the division said. This placed them just inside a 200 nautical mile exclusive economic zone reaching out from the coastline of the Australian Antarctic Territory.
In a series of radio exchanges Aurora established the whalers were in no difficulty, and then asked them to leave the area, the spokesman said. He was unable to provide any detail on the Japanese response.
The incident highlights long standing tensions between the two countries over whaling.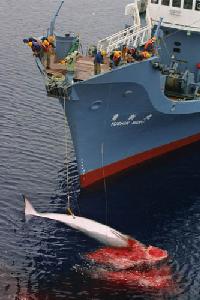 A minke whale harpooned by Japanese whalers
is hauled to the whaling ship.
Southern Ocean 2001 (Photo courtesy Greenpeace)
Commercial whaling has been globally banned since 1986 by the International Whaling Commission (IWC). Japan's whaling program that it calls scientific and claims is legal under IWC rules, provides for a self-imposed quota of up to 440 minke whale stocks annually, and every second year it concentrates this effort on the waters of eastern Antarctica.
The International Whaling Commission has repeatedly requested that the Japanese government stop this so-called research whaling.
Under Australian law, the killing of whales is forbidden, with heavy penalties for any Australian found to be involved. But its claim of an EEZ in Antarctica is little recognized by the international community.
In 1992 the Australian government lodged a diplomatic protest with Japan when three ships from the fleet came close to the coastline chasing whales near Davis Station in Prydz Bay.
Since then, no sightings had been reported by Australian government expeditions in the area.
The Aurora Australis was travelling from Casey Station to Prydz Bay when it made the discovery. It is on its way to break free the other Australian supply ship, Polarbird, which has been beset in heavy ice in the bay for almost a month.
The chance discovery came a fortnight after the Greenpeace vessel Arctic Sunrise lost contact with the Japanese fleet on December 23. Expeditioners from Greenpeace had carried out a series of actions against the Japanese whaling shortly after they found the fleet 10 days earlier.
Yesterday Greenpeace congratulated the Australian Government for its stand against the whalers.
{Published in cooperation with the Environmental News Service and The Antarctican Online}